Voyages are typically 5 nights/6 days. Number of shark-dives on the trip is virtually unlimited. On the first morning upon arrival we do warm-up dives and afterwards the pool is always open. Each submersible cage will take 3 to 4 divers, and 1 dive master, 3 times a day. Surface cages are unlimited and can take 4 divers at a time. Current record is 31.5 hours of cage time over 3 dive days. Cages close at 5 p.m. on the last dive day to get ready for the steam home. We also offer 10 and 15 night Guadalupe combo-trips. 10 night trip combines diving with the great white sharks at Guadalupe Island with scuba diving in the giant kelp forests of the California Channel Islands and San Benito Islands and other remote islands on the Pacific side of Baja California. 15 night expedition in November combines Guadalupe and San Benitos with the famous giant mantas and dolphins of Socorro Island.
---
Exceptional Modern Boats
Choose from 3 luxurious, stabilized, ISM safety certified ships:
---
Guadalupe Highlights
An unforgettable experience. Picture it - dive to 30 feet and go face to face with great white sharks in crystal clear, calm and sheltered water. Typically outstanding visiblity of 125 feet plus.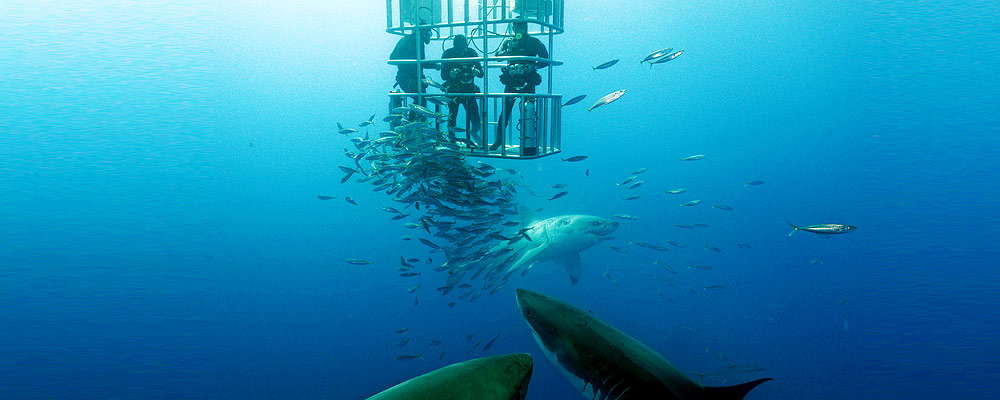 Plethora of Sharks. We use submersible cages with open top decks to descend down to where the sharks naturally congregate. There are 228 individual white sharks identified so far just in one bay that we dive in (shark Bay!). See up to 5 sharks at any given time.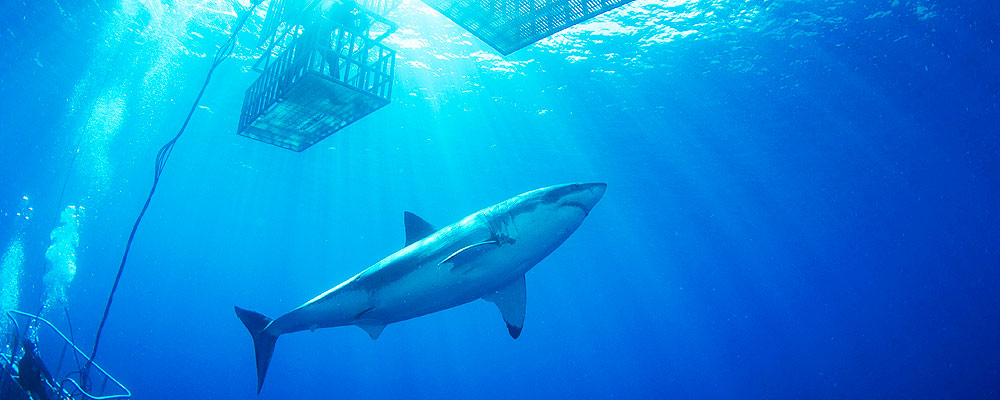 Our treat! Relax in the hot tub or enjoy a drink on the sundeck. Snacks are always offered all day long. Have fun at the wine & cheese party, and at night head up to the sun deck and enjoy a movie under the stars. Don't forget our great selection of spirits and wine from around the world.
With over 25 years of operational experience, we have learned that the safest alcohol policy is to restrict guests from bringing their alcohol onboard. We provide a wide selection of beer, wine and alcohol from the ship's bar at very reasonable prices. Please contact our operations office 60 days prior to your trip for a variation from this policy otherwise the crew will politely but firmly restrict all guests on your trip from bringing their own alcohol onboard.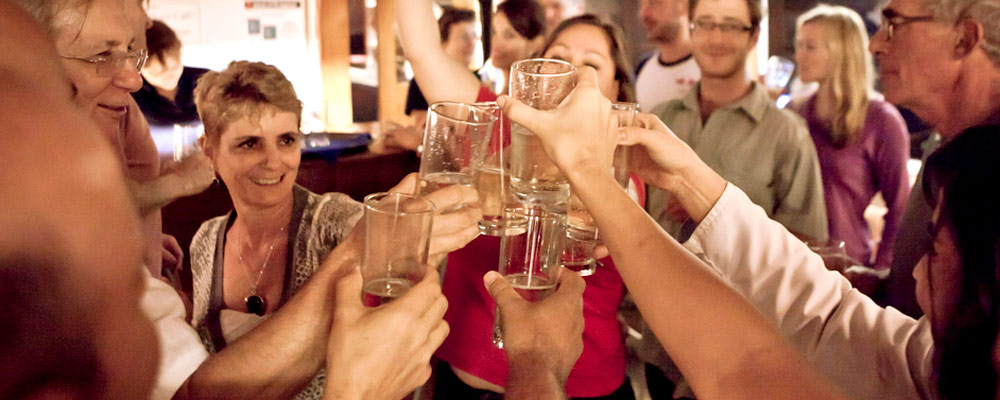 "I have been coming to Guadalupe Island every year for the past 11 years. Every year, it just gets better and better. Yesterday was one of the best days ever. Today there was a bit of a swell, the boat handled the swell very well. Very stable. We made 30 different deep cage drops. Divers saw great white sharks on 29 of 30 drops. Usually 2 sharks and as many as 5. Many, many tight passes. It was another good day." Ed Stetson
---
Why Nautilus is the Best Liveaboard
One of my biggest dreams has always been to dive with the Great White Sharks. We started off early in the morning, the mist was hanging heavenly down over the mountain and the water was calm and blue. Went down in the 2 person cage with Captain Baron. After only a couple of minutes it was there, so graceful just gliding through the water. A young male around 3,5 meters circled our cage for about 30 min. Once we were back on the surface I was filled with happiness and peacefulness after making one of my dreams come true and to share the water with one of the most beautiful animals on earth. ⋆⋆⋆⋆⋆ Emelie E.
6 Stars! If you want to see white sharks, this is it! 3days, 2.5+ hours per day. Great ship with a fantastic crew and never-ending delicious food. Way beyond my expectations! Thanks to Faith at DUI for setting this up and inviting us. ⋆⋆⋆⋆⋆ Ted M.
The ship itself and the accommodations were impressive from the start. The staff has been amazing from minute one. You all heard of people being so kind they're willing to give you the shirt off their back, in my case Jorge the deckhand gave me the cap off his head because the ever so popular Great White cap sold out. The chef and service staff were amazing from making delicious meals and providing prompt service with a smile every time at all times. ⋆⋆⋆⋆⋆ Enoc
For more Guadalupe guest reviews, please take a look at Nautilus Trip Ratings